The Mag
by
Wouldn't you like your skin to be beautiful and clear all year round, your complexion fresh and luminous just like when you've returned from a long weekend or a relaxing vacation? The good news is it's possible, if you adopt...
Read more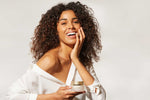 Beauty and well-being has always been at the heart of Moroccan women's priorities, their secrets passed down from generation to generation. From floral water to rhassoul... here are some of those passed down from mothers to daughters to aid in...
Read more
Our Collections
Discover all our collections for a complete well-being routine.