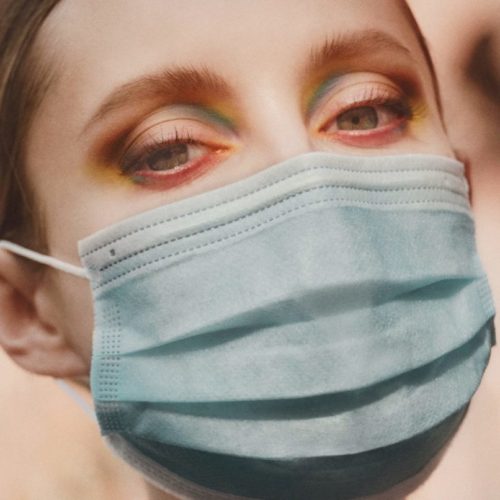 beautiful masked
… or how to display an intact makeup in times of pandemic It's sad to say, but the mask is now an integral part of our lives. If these small cloth or polypropylene nappies are essential to our protection, it is clear that they have the cursed advantage of sweeping away all our certainties in terms of beauty. Should you continue to wear makeup when wearing it? What are the preferred formulas? The new glam' gestures to adopt? We take stock.
1. Maximized hydration
Redness, irritation, pimples, increased sebum… wearing a mandatory mask has serious harmful effects on our skin. One of the solutions is to be extra careful when hydrating. Even if it means opting for a richer cream than normal, especially in winter. Well hydrated, the skin will be better able to protect itself from aggressions. Better, if possible, remember to apply your moisturizer just before putting on your mask. And if the cords tend to irritate the back of the ear in case of prolonged wear, do not hesitate to put a little moisturizer there.
2. Zero Foundation
Combo foundation + perspiration and inflammation of the pores guaranteed! It is therefore better to put away your foundation when you know that you will have to wear your mask for a good part of the day. That said, if you still want to strive for a flawless complexion, alternative solutions exist. Like slipping over your moisturizer a primer which has the advantage of smoothing the skin and neutralizing redness without clogging the pores. In case of pronounced dark circles or a very tired look, a little concealer followed by a little loose powder to fix and you're done! And if you really can't do without good coverage, fall back on light and non-comedogenic textures such as covering powder, BB or CC cream, or even a tinted moisturizer. Finish with a hint of liquid blush (flush) and skip the highlighter or bronzer step.
3. Intense gaze
With the mask, all the attention is shifted to the top of the face, so play it! As a reminder, here are the do's and don'ts in this area:

* We opt for a single color (or a monochrome) and we limit ourselves to the mobile eyelid.
*You choose your palette according to the color of your eyes: warm complexions like bronze or taupe for light eyes, cooler colors like gray or green for hazel or brown eyes. When it comes to black, good news, it suits everyone... and gives the look a very rock look, perfect for a covid-friendly dinner between 6 p.m. and 8 p.m.

*To lift your eyelashes, eyeshadow or not, invest in a good mascara enriched with collagen. And for even more volume, we do not hesitate to multiply the layers.

*The most daring will give in to the appeal of eyeliner (to be drawn with eyes closed).

*Finally, more than usual, we work on our eyebrow line to perfection. They are the ones who define the look. Hair removal, brushing, re-drawing with pencil or powder, we follow the steps with a rule.
4. Light lips
On the mouth side, as for the foundation, we advise you to do without it; unless you rely on an anti-transfer and long-lasting formula. On the other hand, moisturize as much as possible throughout the day with a plumping lip balm or wax.
5. Astringer continuously
To avoid the proliferation of pimples under the mask, you can also spray your face with a mist of thermal water combined with a few drops of tea tree essential oil, a broad-spectrum antiseptic with antifungal, antibacterial and antiviral properties. . Finally, in case of shine during the day, powder your face with a clean cotton ball and translucent powder. And whatever happens, don't forget that it is necessary – and recommended – to change your mask every 4 hours.

Article Mag marocMorocco Interview by Éléonore A. Bénit, journalist and influencer