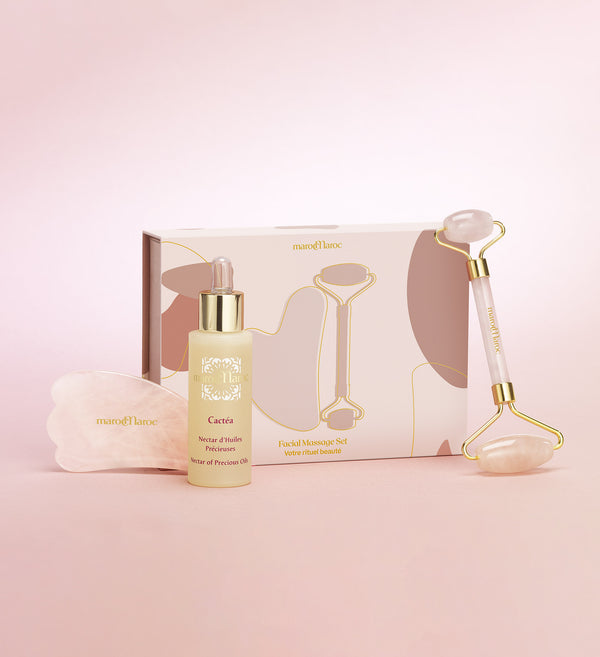 Gua Sha & Roller: the new beauty essentials
Serum, cream, oil… As beauty experts, women today know how to take care of their skin by responding precisely to its needs, thanks to gifted cosmetic formulas. But we can go further, by adopting application gestures that optimize the routine and considerably improve the appearance of the skin.
By Jeanne Dréan , beauty journalist
Omnipresent on social networks, beauty tools are the new allies of all beauty routines, like Gua Sha and Rollers, which offer deep tissue modeling for better firmness and a radiant glow. No wonder these natural stone accessories have become must-haves for taking care of your skin!
Recognizable by its harmonious heart shape, the Gua Sha is a massage tool whose rounded edges and precise angles adapt to the shape of the face for very intuitive use.
Its role: it promotes the drainage of the lymphatic system while stimulating the muscles supporting the face. Used daily on clean, bare or lightly oiled skin, it smoothes the features, prevents sagging skin and provides an immediate boost of radiance.
By rolling over the skin, the Roller is a particularly easy-to-use beauty tool that promises to increase the effectiveness of treatments tenfold. Simply apply an oil, such as the Nectar d'Huiles Précieuses , then pass the Roller without pressing from the inside to the outside of the face.
His promise? The gentle massage stimulates blood circulation and drains fluids for a rapid decongestant and smoothing action. In the longer term, the firmness of the features improves and the skin appears plumper.
The extra trick: by placing it in the fridge for a few hours, it reduces dark circles and puffiness around the eyes.
Which stone to choose? If there are Gua Sha and roller in green or white jade or black obsidian, our preference is for rose quartz. This stone has been recognized for millennia for its soothing and regenerating properties, particularly conducive to a well-being break.
To offer everyone the multiple benefits of these two beauty tools, marocMaroc has designed its Face Massage Box consisting of a Gua Sha and a pink quartz roller, which will perfectly accompany exclusive beauty rituals designed for all skin types. This is the best way to reinvent ancestral rituals by giving them an essential touch of modernity.