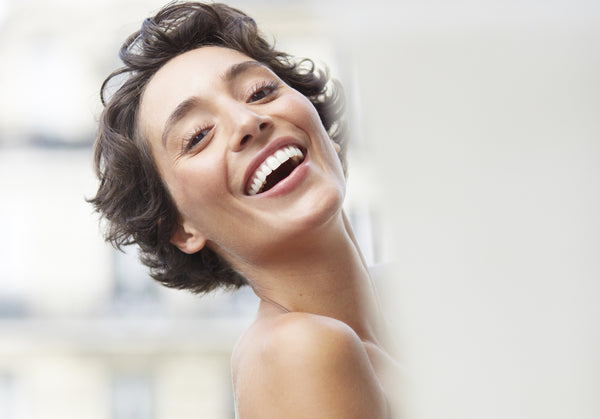 Why does smiling make you beautiful?
Smiling is contagious, and that comes as good news, because smiling also makes people more beautiful. A gesture that lights up an individual's face expresses a feeling of happiness from its owner, which immediately passes onto whoever receives it. So let's take off our masks!
By Jeanne Dréan, beauty journalist
What are the benefits of smiling?
Fewer wrinkles

According to a Chinese proverb, "a smile three times a day keeps the doctor away". This spontaneous muscular contraction mobilizes no less than 17 muscles of your face in an upward movement that fights against natural gravity. Contrary to popular belief, this does not accentuate wrinkles, quite the opposite! The stimulated zygomatic muscles produce a tightening effect that makes you look younger.
More happiness

On a deeper level, smiling for at least 17 seconds in a row makes your brain release endorphins – the hormones of pleasure that immediately fill you a sense of well-being –, and inhibits cortisol – the hormone responsible for stress. In short, it's a true virtuous cycle that will even extend your life expectancy. A North-American study showed that people who smile spontaneously could live up to 7 years longer than others, confirming how emotions have a positive relation to mental health, physical fitness and longevity. The good news: it is possible to work towards your own happiness every day.
Optimism can be learned


Make time to make yourself feel good. A beauty break can take place anywhere, anytime: in your bathroom, an appointment at the beauty salon, a lunch break with a friend, a moment of rest with a good book... A multitude of moments that invite you to reconnect with yourself out of a busy and stressful life.


When it comes to vocabulary, avoid using negative expressions such as "I won't make it", "it's impossible" or "I can't take it anymore". Instead, try to use positive statements that relate to your current needs.


Looking back, take stock of all of your recent successes and all the things you've been doing well. It's even better if you make it a daily ritual, writing down each night three positive things you've accomplished during the day.
A few suggestions to cultivate your smile:
A podcast
"A bit of optimism" – A weekly talk with inspiring people that put joy and optimism in their lives – On Spotify
A book
"Smile, 50 years of good news" (ed. Assouline) For the last 50 years, Smiley has served as a beacon of hope and positivity as they've encouraged the world to take the time to smile.
A meditation session
"Smiling at anxiety" – a 10-session program presented by Petit Bambou to help you reconnect with yourself and a smile for life.

With these suggestions, one thing for sure after is that you will truly shine!